Methylated DNA Immunoprecipitation - MeDIP
The Methylated DNA IP (MeDIP) is based on the affinity purification of methylated DNA using an antibody directed against 5-methylcytosine (5-mC) or 5-hydroxymethylcytosine (5-hmC) in the case of hMeDIP.
How it works
In brief, Methyl DNA IP is performed as follows: Genomic DNA from cultured cells or tissues is prepared, sheared, and then denatured. Then, immunoselection and immunoprecipitation can take place using the antibody directed against 5 methylcytosine and antibody binding beads. After isolation and purification is performed, the IP'd methylated DNA is ready for any subsequent analysis as qPCR, amplification, hybridization on microarrays or next generation sequencing.
Overview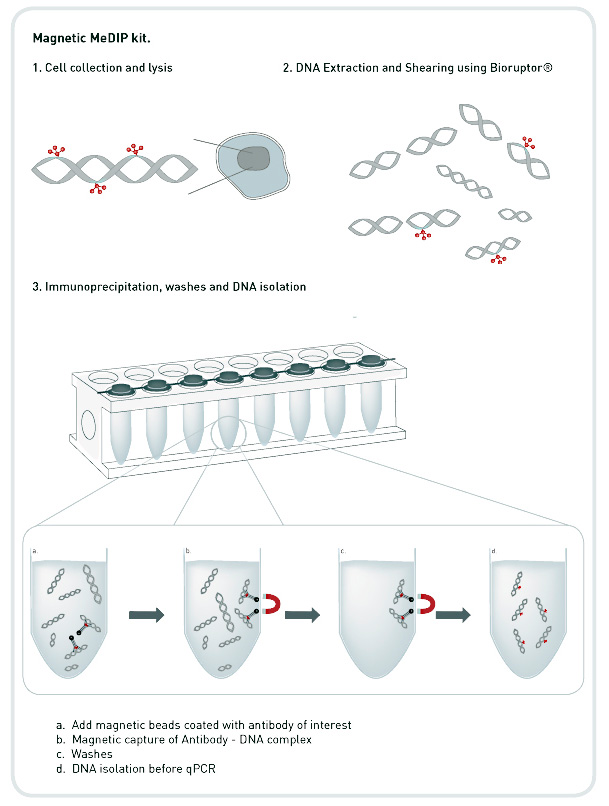 Made for Methylated DNA immunoprecipitation
Cat. No.

Product

Format

C02010031

hMeDIP kit x16 (monoclonal mouse antibody)




This kit has been designed to perform Hydroxymethylated DNA Immunoprecipitation using the first and only monoclonal antibody against 5-hydroxymethylcyto...

16 rxns

B03000002

IP-Star

®

Compact Automated System


The IP-Star® Compact Automated System provides the flexibility needed to change multiple parameters in the protocols to achieve optimal experimental cond...

1 unit

C30010014

2 ml microtubes for SX-8G IP-Star

®

Compact


These tubes are intended for being used on the SX-8G IP-Star® Compact Automated System.

100 pc

C15410204-100

5-Carboxylcytosine (5-caC) polyclonal antibody - Classic




Polyclonal antibody raised in rabbit against 5-Carboxylcytosine (5ca-CMP monophosphate) conjugated to BSA.

100 µg

C15410205-50

5-hydroxymethylcytosine (5-hmC) polyclonal antibody (rabbit) - Classic




Polyclonal antibody raised in rabbit against 5-hydroxymethylcytosine conjugated to KLH.

50 μg

C15200081-100

5-methylcytosine (5-mC) monoclonal antibody 33D3 - Premium




The 5-methylcytosine antibody (clone 33D3) is the most published and widely used antibody for DNA methylation analysis. It has been validated for Methylated ...

100 µg/77 µl

C15200006-100

5-methylcytosine (5-mC) monoclonal antibody cl. b - Classic




Monoclonal antibody raised in mouse against 5-mC (5-methylcytosine) conjugated to ovalbumine.

100 µg/50 µl

C02010034

Auto hMeDIP kit x16 (monoclonal mouse antibody)




This kit has been designed to perform Hydroxymethylated DNA Immunoprecipitation using an antibody against 5-hydroxymethylcytosine (5-hmC) on our Automated Sy...

16 rxns

C02010012

Auto MeDIP kit




Perform Automated MeDIP (Methylated DNA Immunoprecipitation[application MeDIP] to estimate DNA methylation status of your sample using the 5-methylcytidine a...

100 rxns

C02040012

DNA Methylation control package




The DNA Methylation control package includes unmethylated and in vitro methylated DNA together with specific primer sets for assessing the efficiency of your...

40 rxns

C02010030

hMeDIP kit x16 (monoclonal rat antibody)




This kit has been designed to perform Hydroxymethylated DNA Immunoprecipitation using the first and only monoclonal antibody against 5-hydroxymethylcyto...

16 rxns

C02010032

hMeDIP kit x16 (polyclonal rabbit antibody)




This kit has been designed to perform Hydroxymethylated DNA Immunoprecipitation using the first and only monoclonal antibody against 5-hydroxymethylcyto...

16 rxns

C11000002

Hydroxymethyl dCTP




Hydroxymethyl dCTP can be used as a substrate for MethylTaq DNA polymerase (Cat. No. AF-103-0250) permitting the amplification of DNA containi...

250 µl

C02010021

MagMeDIP kit




Perform MeDIP (Methylated DNA Immunoprecipitation) to estimate DNA methylation status of your sample using the 5-methylcytidine antibody. The development of ...

48 rxns

C15400001

Mouse IgG




The negative Ctrl IgG from mouse has been extensively validated in chromatin immunoprecipitation assays (ChIP). It contains a spectrum of the IgG subclasses ...

15 µg/15 µl

C15410206

Rabbit IgG




The negative Ctrl IgG from rabbit has been extensively validated in chromatin immunoprecipitation assays (ChIP). It contains a spectrum of the IgG subclasses...

250 µg/250 µl

C15420001

Rat IgG




The Rat IgG has been extensively validated in hydroxymethylated DNA IP (hMeDIP) assays. It contains a spectrum of the IgG subclasses present in ser...

25 µg/ 25 µl